Canadian engineer leads planning and design efforts for AKU's largest expansion to date
Posted on Friday, 28 October 2016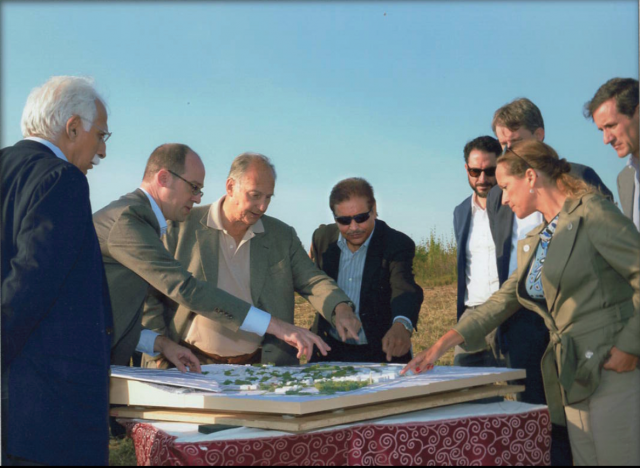 Nasir Peerani (4th from left) pictured with Mawlana Hazar Imam, Princess Zahra, AKU President Firoz Rasul (far left) and project team members
Volunteer name:  Nasir Peerani
Location:  East Africa (Nairobi, Dar es Salaam and Arusha)
Duration of assignment:  9 years
Task:  To oversee AKU's campus planning and design projects in Tanzania
Impact made:
Led the team responsible for the purchase of nearly 4,000 acres of land in the Arusha region
Led the selection process for internationally recognized architects, planners and engineers for Tanzania projects
Oversaw the planning and design of the principal campus in Arusha site and the Institute for Educational Development site in Dar es Salaam
Managed on site activities and operations on both greenfield sites
Served as the face of the institution in Arusha and Dar es Salaam with regard to government and community relations
The Aga Khan University (AKU) has had a long-standing presence in East Africa, historically making contributions primarily in health sciences and education. In addition to existing programmes, AKU's ambitious global growth includes major projects in East Africa.
One vital step in the direction of AKU becoming a comprehensive University is the establishment of a principal East African campus. A Faculty of Arts & Sciences and seven Graduate Professional Schools, along with AKU's regional academic and administrative leadership, will be based in Arusha, the capital of the East African Community. The new Arusha campus was designed by an internationally renowned design team comprised of master planning firm Beyer Blinder Belle (USA), architect Legorreta + Legorreta (Mexico) and engineering firms Arup (UK) and Aurecon (South Africa and Tanzania).  The plan is to commence the first phase of infrastructure development in 2017 with the campus set to admit its first students in 2020.
While AKU's Institute for Educational Development is already operational in Dar es Salaam, it is currently housed in a refurbished building it shares with AKU's School of Nursing and Midwifery programmes. AKU plans to construct a new permanent campus for the Institute, which will be
co-located with an  Aga Khan Academy. The campus has been designed by architects HOK (UK) and engineering firm Arup (UK) along with local consultants.
Nasir Peerani's role in both these projects was to oversee the design and development of the campuses from start to finish. In the case of Arusha, this began with a search for land and the acquisition of contiguous parcels over a five-year period that today comprise the future campus site. For both projects, Nasir was responsible for assembling the Design Teams and overseeing all design aspects, including managing annual design and operations budgets, controlling construction cost estimates, working with academic and other University stakeholders to ensure the facilities would enhance the curriculum and programme goals.  He regularly reported progress on the projects to the Chancellor and the University's Board of Trustees as well as senior government officials in Tanzania, donors and civil society institutions.
In order to lead these projects as a TKN volunteer, Nasir relocated to East Africa for nine years, leaving behind his supportive wife Nargis, children, and young grandchildren. He stepped down from his role at AKU in July 2016 and has been succeeded by another volunteer, Nizar Somji (also from Edmonton, Canada).
Nasir remains passionate about both these projects and maintains an advisory role for AKU as needed. He looks forward to seeing the projects built and hopes his grandchildren may one day become AKU students.
Nasir's exemplary commitment and contributions for nine years in this key leadership role, as a TKN volunteer, are deeply appreciated and valued by AKU.